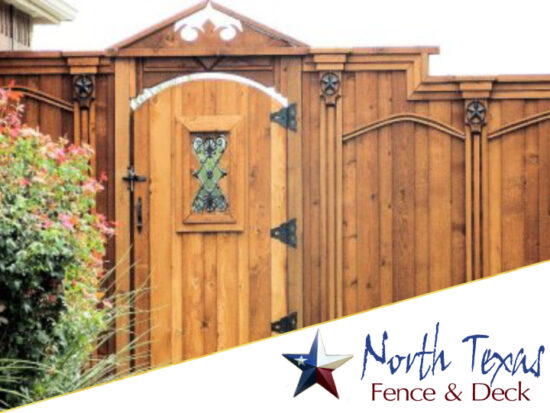 Will You Help Design the Wooden Fence?
We have been building fences and doing total backyard makeovers for decades now. And benefit from our previous experiences. We help with all of the design work involved. Homeowners who want to install a backyard kitchen for instance, we have all the brands you need to put there. We know where to purchase them and for for the best price.
When it comes to the materials used in your fence or deck, we have access to the best fence installation materials (wood, composite, vinyl, and metal) in the area. We contract months in advance on our purchases. So we have special woods shipped into the area that the average homeowner does not have access to.
Trust the team to build an arbor or replace a deck with the one you'll enjoy for many years. Composite materials have made them virtually maintenance free. A beautiful outdoor living space created by an arbor or deck can add enjoyment to you and value to your home.
Wrought Iron gates and metal fencing have many benefits. Surround your family pool with a metal fence. Enhance the beauty and improve the security of your home with wrought iron, automatic gates.
Popular Maintenance Free Vinyl PVC Fences
Metro Dallas homeowners want a maintenance free fence and vinyl is the solution. When you consider all the styles, colors, and textures available the choice can be overwhelming. Call now to get the advice of an experienced fencing contractor.
Automatic/Electric Gates: Iron, Metal, and Wood
Gates can serve a variety of purposes, which is why North Texas Fence and Deck offers so many different styles so that you can get the exact gate that matches your specific needs. If you have property in Metro Dallas, call 972-586-2442 day or night to arrange a free consultation and estimate.
Chain Link Fences
Chain link fencing can be appropriate for many different residential and commercial applications. Offering economical materials and installation costs, chain link is a practical fence for backyards, swimming pools, dog kennels, playgrounds, building security, and wildlife barriers.
Deck Builder – Wood, Composite
We provide the skills and the expertise you want when building a new deck or fence. We only choose the finest deck building materials. Our team will provide you with the design that will meet your taste and stay within your budget. We only use the highest grades of wood and composite decking materials. Our goal is to exceed your expectations so call today for a free estimate.
Custom Arbors, Carport and Patio Covers
When looking through our portfolio you will quickly pick up on the fact that we can build about anything out of wood. And when we do it looks good. So if you need an arbor, carport, or patio cover, call our team today to help you design one that meets your budget while providing a long-lasting, beautiful addition to your home in Metro Dallas TX.
Fence Installation and Repair Call 972-586-2442 Now